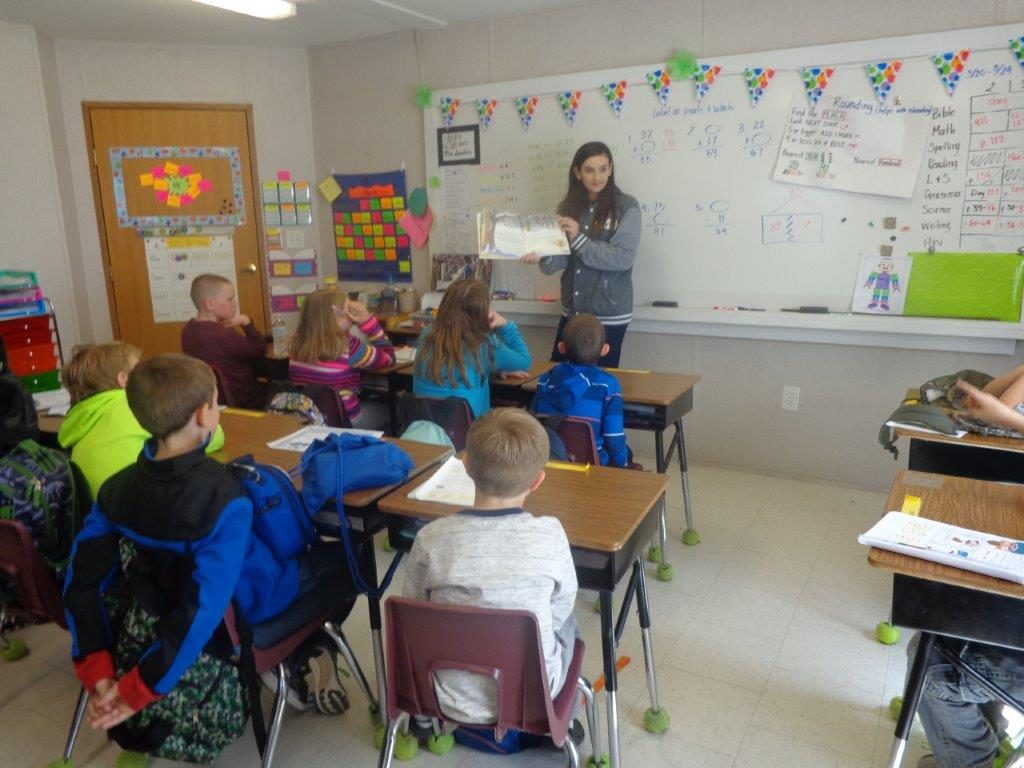 What We Offer At NGCA

Member of Association of Christian Schools International

Traditional Classroom Instruction for Kindergarten – 12th Grade

Nationally Recognized Standardized Achievement Tests each year

Resource teacher to aid students needing additional academic assistance

Accredited Teachers

Small Student to Teacher ratio

Low tuition

Casual Dress Code

Clubs for both Elementary and Middle/High school students

Weekly Tuesday Memos highlighting school news

E-mails from the PTM to keep parents up to date on functions

Chapel once weekly with lay people and ministers from a variety of evangelical Christian denominations

Computer lab with networking and internet capabilities for all grades

Fine Arts Programs – Chorus, Band

Resource Library

Private instrumental and voice lessons available

Parents are encouraged to participate/volunteer in classes

Before and After school care available, and optional holiday care available

NGCA "Summer Camp" program available with twice weekly field trips

School colors are purple and white
Academic Excellence at NGCA

Our carefully chosen curriculum emphasizes proficiency in reading, writing, math, science and social studies, enhanced by instruction in Bible, physical education, art, music, computer and Spanish.

The NC Standard Course of Study guidelines are followed and supplemented. The Christian worldview is presented in all subject areas, acknowledging God's Word as the final source of authority and truth.

Our curriculum ensures that students will be taught new material on each grade level and that there will be sufficient review of old material each year. Students can progress steadily from year to year. The elementary curriculum provides for much drill and repetition in a variety of ways, which ensures knowledge retention. The middle and high school curriculum increasingly promotes analytical thinking, research and composition. The high school is a college preparatory program that meet and exceed state requirements and the minimum requirements for admission into the UNC University system Learning is further enhanced by small orderly classes with caring teachers attune to individual needs.
Biblical Reasons and Motivation

Six Compelling Reasons To Send Your Children To A Christian School

By: Dr. Wayne Grodin

1. All of a child's education should be Bible-centered and God-centered. "Parents, do not exasperate your children; instead, bring them up in the training and instruction of the Lord" (Ephesians 6:4). I'm saddened when Christian parents tell me of the frustration and stress their children experience in secular schools, but I also wonder if parents aren't doing exactly what Ephesians 6:4 says not to do: putting their children, day after day, in situations that "exasperate" them, that "provoke them to anger," or to sorrow or frustration.

2. Education should be positive and truthful. Sometimes parents think that a secular environment will "strengthen" their children by forcing them to stand up for their own beliefs. But God's Word does not endorse that viewpoint. It does not say, "give a child twelve years of training in the way he should not go, and he will be made strong by it." Instead, God tells us, "Train a child in the way he should go, and when he is old he will not turn from it" (Proverbs 22:6).

3. Peer influence should be positive and Christlike. Parents sometimes think it helps or strengthens their children to spend much time with children who have different moral standards and goals for life. But God's Word disagrees and reminds us that children will tend to become more and more like their frequent companions. "He who walks with the wise grows wise, but a companion of fools suffer harm" (Proverbs 13:20). "Do not be deceived, 'Bad company ruins good morals'" (I Corinthians 15:13).

4. Every teacher's pattern of life should be worthy of imitation. Children are great imitators. A teacher they like will have a tremendous impact not only on studies, but on attitudes toward all aspects of life. Jesus knew that, for He said, "Every one when he is fully taught will be like his teacher" (Luke 6:40).

5. Only God-centered education gives true wisdom. "The fear of the Lord is the beginning of wisdom" (Psalm 111:10). "The fear of the Lord is the beginning of knowledge" (Proverbs 9:10). "In Christ are hidden all the treasures of wisdom and knowledge" (Colossians 2:3).

6. Christian school is the best hope for transforming society. Jesus tells us, "You are the salt of the earth…you are the light of the world" (Matthew 5:13,14). Society is to be influenced and guided by Christians! But why aren't we doing this more today? School is where we learn to think. It's where we learn how to work and relate to others and influence the world. But if that whole process excludes God's own viewpoint in Scripture for 12 years, our Christian witness grows accustomed to being mute, and it remains uneducated, never growing beyond the "Sunday School" level. Our lamp is "put under a bushel," and salt loses its saltiness and is "no longer good for anything" (Matthew 5:13,15).